Products made in America
At an Employee Owned Business
View OUr Catalog
Discover All Of Your New Favorite Products
Create An Account
Create a Bruske Products Account Today!
All Sweper Scrubbing Disk Brush Products –
BRUSKE POWER SCRUBBING DISC BRUSHES are "dynamically balanced" brushes made to replace the original equipment in  your present machine.  These individual replacement brushes are the finest available – thick with indestructible bristles, trimmed just right and finished to allow the brush to do its work evenly under the weight of the machine.  This gives the largest possible flat brushing surface in contact with the floor and results in a smoother, more efficient cleaning action.  These brushes are available in a choice of high performance Brulon and nylon synthetic bristles.
Look for all available options in our Bruske Power Sweeper Brushes Catalog 201.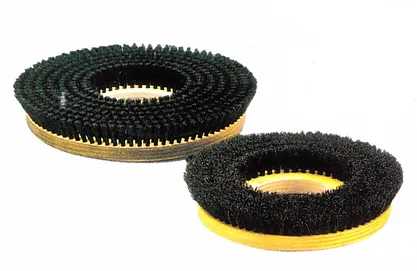 Bruske Products is a 100% Employee-Owned ESOP Company
Bruske Products is known for producing quality-crafted, American-made brushes, brooms, and sweeper brushes that last longer and clean better than ordinary floor products. Each brush and broom is designed, engineered and manufactured to last longer by using the finest materials.
Manufacturing
Transportation
Public Works
Education Facilities 
Pharmaceutical Manufacturing
Food Manufacturing