Bruske History and Heritage
Founded on the principles of hard work, honesty and integrity, Bruske Products has built its success on the simple and practical quality of its products. Ed Bruske, a successful salesman and manager for The Fuller Brush Company, brought his ingenuity and experience to the table when he established Bruske Products in 1972.  Amid the recession and a flailing economy the idea of a thriving brush and cleaning supply business seemed a bit like a fantasy.  That fantasy became a reality in September of 1972 when Bruske Products began manufacturing brushes and mops in the back of a machine parts factory in the Chicago suburb of Tinley Park.
A single employee began hand-cutting and sewing wet mops on a Singer sewing machine.  Next, on a machine designed by Mr. Bruske and his daughter Diane, the Indestructible Bruske Brush was produced. With Ed Bruske at the helm, his wife Priscilla managing the office and a single employee making bushes and mops Bruske Products was off to a good start.  Soon Bruske Products began manufacturing sweeper brushes and by 1975 moved out of the machine parts factory into a brand new 10,000 square foot facility across town.
As the organization grew so did the number of dedicated employees and family members. In 1982 son-in-law Steve Schafer began as an industrial salesmen and soon became the national retail sales manager and is now vice president.  As sales increased so did the need for space.  In 1986 Bruske Products built its current 30,000 square foot corporate headquarters and manufacturing plant.  To conserve energy the new facility was outfitted with double sided walls, two and a half inch insulated ceilings and an EPA approved wood burning furnace.  Bruske Products repurposes wood that would normally be placed into a landfill to heat the manufacturing area.  In 1995, daughter Susan began as the administrative assistant and continues to manage the busy office as the executive administrator.
Because community service has been an important part of our philosophy, Bruske Products partnered with Southwest Community Services, Inc., a non-profit human services agency that provides help to individuals with diverse disabilities to maximize their independence and development.  Over the past thirty-five years Bruske Products has hired several full-time, permanent employees from Southwest Community Services, and the Tinley Park Economic Commercial Commission has recognized Bruske Products numerous times for their contributions to the community.
Much of the credit for the success of Bruske Products goes to the dedicated employees.  In January of 2000 Ed Bruske sold the company to the employees through an Employee Stock Ownership Plan (ESOP).  Today Bruske Products has nearly fifty employees some of whom have been with the company from its start.  Bruske Products operates on its original mission "to design, engineer and manufacture quality-cleaning products that last longer and clean better and exceed the needs and expectations of each customer."
Bruske Products can claim with pride, that since the original Bruske Brush was introduced it has been fulfilling this mission in a socially responsible manner.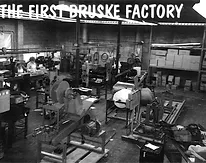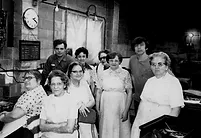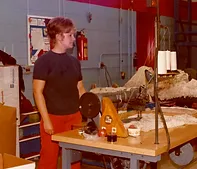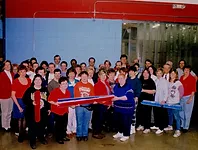 Bruske Products is a 100% Employee-Owned ESOP Company
Bruske Products is known for producing quality-crafted, American-made brushes, brooms, and sweeper brushes that last longer and clean better than ordinary floor products. Each brush and broom is designed, engineered and manufactured to last longer by using the finest materials.
Manufacturing
Transportation
Public Works
Education Facilities 
Pharmaceutical Manufacturing
Food Manufacturing